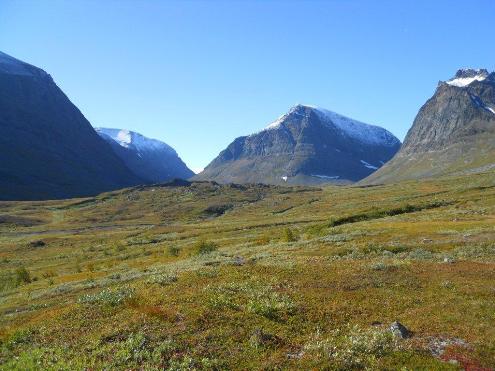 Our adventure begins in Stockholm. Built on 14 islands, Stockholm is often called "the Venice of the North" and is one of Europe's most beautiful capitals. Our hotel is near Gamla Stan, the medieval part of the city with narrow cobblestone streets and the Royal Palace.
We fly to Kiruna, Sweden's city in the arctic, then take a short train ride to the start of our hike in Abisko. Our route passes through an expansive landscape of birch forests, hidden glaciers, powerful rivers, reindeer herds, wide-open tundra and the highest mountains in Sweden, rising more than 6900 feet. This is the arctic at its finest!
Although popular with Scandinavians and other Europeans, few Americans travel to this far corner of Europe. For six days, we will traverse the most northern section of the Kungsleden from Abisko to Nikkaluokta. This is the Land of the Midnight Sun, but in early September, the sky darkens by 9:00 pm offering potential sightings of the aurora borealis, the Northern Lights. Northern Sweden is one of the best locations in the world to observe this amazing phenomenon. Early September is also the peak for fall foliage in the forested valleys.
While the Arctic terrain is rugged, there's a certain civility to the Kungsleden. Sturdy suspension bridges span dangerous rivers, and comfortable huts, some with saunas, welcome us at the end of each day's hike. Saunas are a deeply ingrained part of Swedish culture and provide a rejuvenating experience not to be missed! Each location has multiple huts, and each hut typically sleeps 4-8 people per room and has a fully equipped kitchen for us to prepare our meals. Our last night on the trail is at Mountain Station Kebnekaise, a lodge with an excellent restaurant featuring local Sami cuisine.
We rate this as a moderately strenuous trek.  There are few major climbs and the trail is well maintained. You will not need any camping gear, but each person will be required to carry a portion of the group's food. Our trek is certainly within the capability of reasonably fit hikers. Join us on this hiking adventure of a lifetime!
You can choose to meet us in Stockholm or we can give you our flight itinerary if you wish to join our flight (providing flight is not fully booked). We usually fly out of New York or Philadelphia.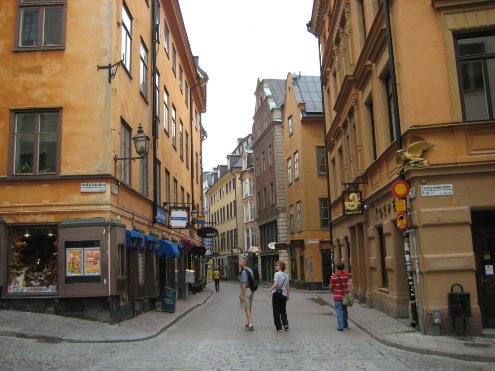 Day 1: Arrive in Stockholm Sweden. Transfer to Hotel. Introductory meeting and evening walking tour of Stockholm.
Day 2: Morning gear review followed by optional walking tour of Stockholm, with the group or on your own. Hotel accommodations. Meal provided: B.
Day 3: Noon flight to Kiruna. Transfer to Hotel. Evening walking tour of Kiruna. Meal provided: B.
Day 4: Abisko to Abiskojaure, 9 miles. We take the morning train from Kiruna to Abisko to begin our hike in Abisko National Park. The trail follows along the Abeskoeatnu River through birch forest in full autumn splendor to a large lake. Our hut is at the far end of the lake. Meals provided: B, L, D.
Day 5: Abiskojaure to Alesjaure, 12 miles. We continue west alongside the river before veering south through a small mountain pass. We leave the birch forests behind and enter the tundra where we remain for the next three days. The trail parallels a very large lake with impressive mountains as a backdrop and a Sami village on the opposite shore. Eventually we reach the Alesjaure Mountain Hut with its welcoming sauna. Meals provided: B, L, D.
Day 6: Alesjaure to Salka, 15 miles. Our longest day. We follow a long valley which rises gradually to the Tatja Pass with stupendous views. We continue steeply down the other side to the Tjaktjajakka Valley, then follow this valley to Salka Mountain Hut. Meals provided: B, L, D.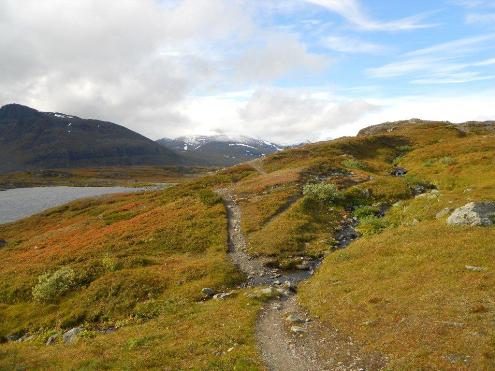 Day 7: Salka to Singi, 8 miles. Our easiest day, entirely within the Tjaktjajakka Valley. Numerous waterfalls plunge from the surrounding mountains. Meals provided: B, L, D.
Day 8: Singi to Kebnakaise Mountain Station, 8.5 miles. After a steep climb out of Singi, the trail winds past Kebnakaise, Sweden's highest mountain and slowly descends out of the tundra and back to birch forest. Eventually we reach our overnight stop at the Kebnekaise Mountain Station, a true mountain oasis complete with store, bar, restaurant, and sauna. Meals provided: B, L, D.
Day 9: Kebnakaise to Nikkaluokta, 12 miles. Our trail leads through colorful birch forest as we travel down the Nikka Valley to Lake Laddjujavri and the end of our trek at the village of Nikkaluokta. Here we connect with a bus that takes us back to Kiruna. Hotel in Kiruna for the night. Meals provided: B, L.
Day 10: Flight back to Stockholm with hotel accommodations near Arlanda International Airport. Optional evening visit to downtown Stockholm. Meal provided: B.
Day 11: Return home.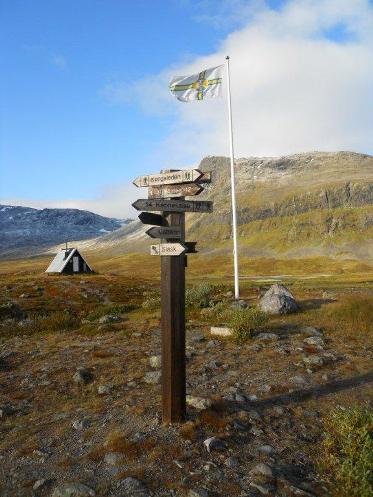 Double occupancy accommodations for hotels and Kebnekaise Mountain Station. Single supplement will be added if single accommodations are requested at hotels. Accommodations in the trailside huts are variable with as few as two and as many as eight or more per room.
All accommodations and meals as stated in the itinerary.
Guide services.
Bus from Stockholm to airport for flight to Kiruna.
Round trip flight from Stockholm to Kiruna.
Train from Kiruna to Abisko and bus from Nikkaluokta to Kiruna.
Hut fees.
Group taxi fares.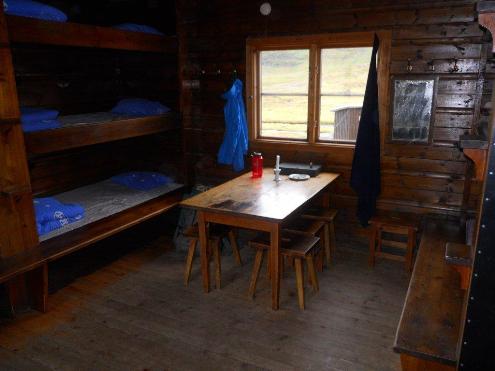 Travel insurance/ trip cancellation insurance.
Flights to and from Stockholm (except Kiruna flights mentioned above).
Personal gear (see equipment list).
Meals not listed in itinerary.
Transportation from Arlanda airport upon arrival.
Excess baggage charges.
Private excursions.
Alcoholic beverages.
Click on an image for a larger view.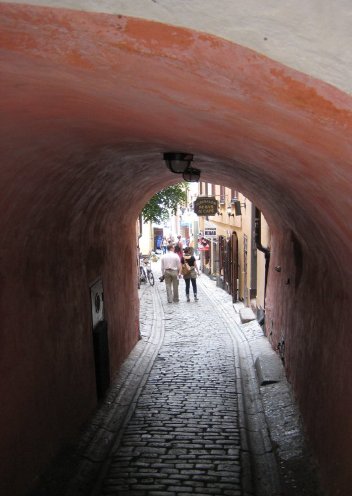 Hotel: 5 nights, ensuite bathrooms.
Huts: 4 nights. The huts are comfortable but basic and have 20-80 beds (rooms with 4-10 beds, male/female mixed). There is no electricity or running water in most of the huts, and bathrooms are outside.
Kebnekaise Mountain Station: 1 night, shared bathroom.
TRIP COST PER PERSON: $2595
DEPOSIT REQUIRED PER PERSON: $750