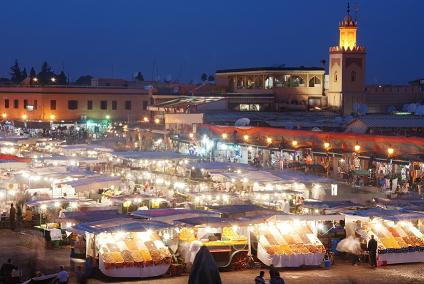 Rich in architecture and history, Morocco is a paradise for the traveler wanting to experience a unique and vibrant culture unlike any other. Our trip will begin in Marrakech, home to many attractions such as the Djemma el Fna, Saadien Tombs, Majorelle Gardens, and El Badii Palace. The Djemma el Fna, Marrakech's most popular attraction, is a large central square that by day bustles with acrobats, story-tellers, snake-charmers, dancers, and musicians, and by night, opens into a large open-air restaurant. It is the perfect place to witness the exotic richness of Moroccan life.
The High Atlas Mountains, which form a barrier between the Mediterranean Sea to the north, and the Sahara Desert to the south, are comprised of spectacular peaks rising over 13,000 feet and are regarded as one of the most scenic hiking destinations in the world. During our 6 day trek, we ascend the mountainous interior all the way to the summit of Mount Toubkal, which at 13,667 feet, is North Africa's highest mountain. Our accommodations during this journey will be in remote villages nestled in the mountains, home to Morocco's indigenous people, the Berbers.
You can choose to meet us in Marrakech or we can provide our flight itinerary if you wish to join our flight (providing flight is not fully booked). We fly out of New York.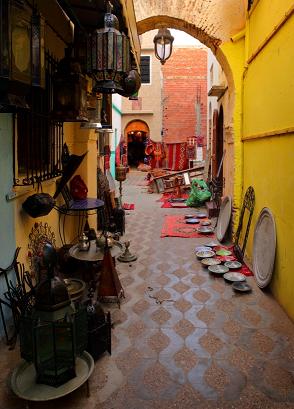 Day 1: ARRIVE MARRAKECH
Arrive Marrakech. Evening walking tour of Marrakech. Overnight in Riad (Hotel).
Day 2: FULL DAY IN MARRAKECH.
Enjoy a day of leisure exploring exotic Marrakech with its many beautiful attractions including the central square, Djemma-el-fna. Full of color, spicy aromas, traders, snake charmers, and fortune tellers, the Djemma-el-fna is a feast for all of the senses! Meals provided: B.
Day 3 : MARRAKECH - TACHDDIRT.
Departure to Oukaïmeden where we begin our trek. Our first day in the High Atlas, we will explore the villages of Tizi n 'Eddi, Ouanskra, and Tachddirt. Overnight in Gite (Berber house). 5 hours walk. Meals provided: B, L, D.
Day 4 : TACHDDIRT – AROUMD
We ascend gradually to the Tizi-n-Tamatert Col before descending steeply into the Mizane valley and the village of Imlil. Imlil is a busy and colorful trailhead with cafes, shops, and peddlers selling local crafts (a great place to buy Argon Oil). From Imlil we ascend towards the Hotel Kasbah de Toubkal which was used as the Tibetan temple in Kundun, Martin Scorsese's 1997 movie about the Dalai Lama. We continue climbing through walnut trees to the delightful village of Aroumd, the highest permanent settlement in the Mizane Valley. Overnight in Gite. 6 hours walk. Meals provided: B, L, D.
Day 5 : AROUMD - TOUBKAL REFUGE.
We get an early start for our ascent to Neltner Refuge (10,518 ft) which will be the base camp for our climb to the summit of Mount Toubkal. Leaving the green fields of Aroumd we follow the Mizane Valley past the holy shrine of Sidi Chamharouch, a place of pilgrimage for many Moroccans. After a picnic lunch we continue the climb to the Neltner Refuge. Overnight in Refuge. 6 hours walk. Meals provided: B, L, D.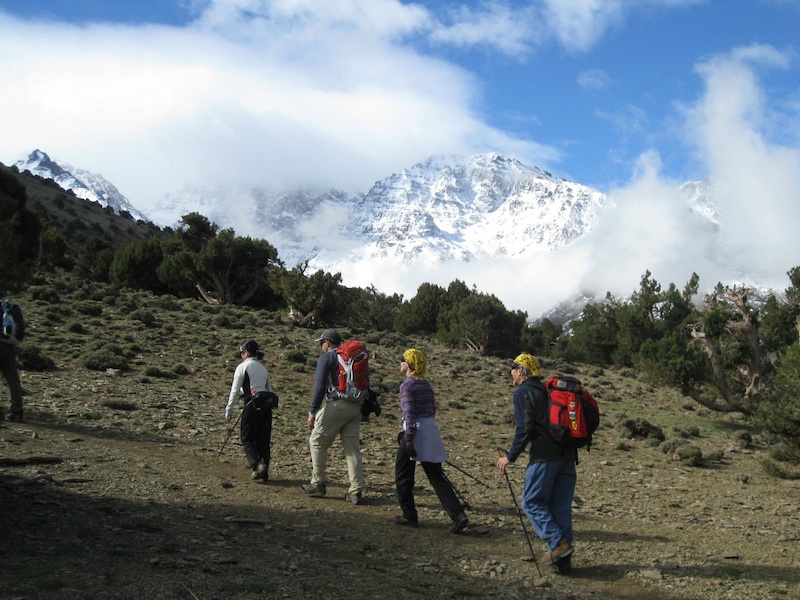 Day 6 : TOUBKAL REFUGE - MOUNT TOUBKAL SUMMIT – TOUBKAL REFUGE.
The summit ascent of Mount Toubkal is not technically difficult, although the loose scree and altitude make the going quite tiring. After an early breakfast, our local guide leads us as we traverse to the base of the South Cwm and begin a gradual four hour climb to the summit. Mount Toubkal is the highest peak in North Africa with an elevation of 13,667 feet and unobstructed views in every direction. To the north are the High Atlas, and to the south, the Anti-Atlas and Sahara Desert. Overnight in Refuge. 7 hours walk. Meals provided: B, L, D.
Day 7: TOUBKAL REFUGE - TISSI OUSSEM.
We leave for the village of Tizi n'Aguelzim. Traveling down the numerous switch-backs, we pass more spectacular views of the surrounding mountains, and witness the stunning Tamsoult Cascade. Overnight in Gîte D'étape (Village house). 7 hours walk. Meals provided: B, L, D.
Day 8: TISSI OUSSEM - MARRAKECH.
Our last day in the High Atlas, we traverse the stark slopes of Tizi N'tacht to the beautiful valley of Adrars Algouli for our final picnic lunch and our return transport to Marrakech. Evening sightseeing and celebratory dinner. Overnight in Riad. 5 hours walk. Meals provided: B, L.
Day 9: MARRAKECH– TRANSFER TO AIRPORT.
Transfer to the Marrakech airport and departure. Meal provided: B.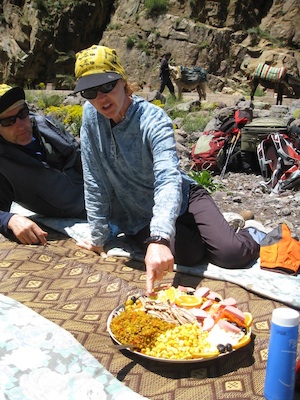 Double occupancy accommodations. Single supplement will be added if single accommodations are requested and available.

Pickup and return to Marrakech airport will be available for certain designated flights arriving June 16 and departing June 26.

All accommodations and meals as designated in the itinerary.

Guide fees and services.

Mule transportation of gear while trekking.

Transportation to and from trailhead.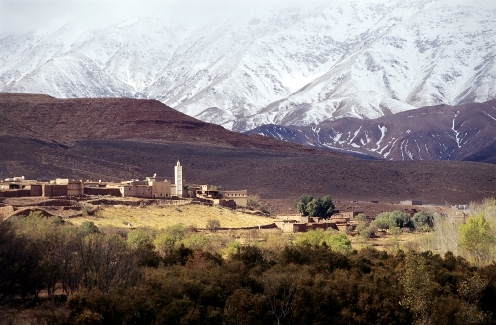 Travel insurance / trip cancellation insurance.

Flights to and from Marrakech.

Meals not included in itinerary.

Personal gear (see equipment list).

Excess baggage charges.

Private excursions.

Alcoholic beverages.
Click on an image for a larger view.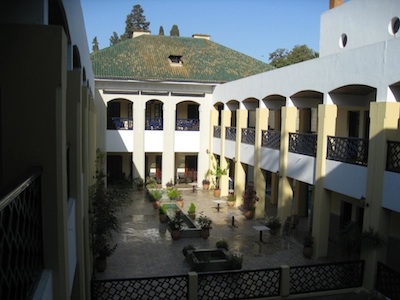 Riad (Hotel): 3 nights
Gite (Mountain Home or Hut): 5 nights
TRIP COST PER PERSON: $1795

DEPOSIT REQUIRED PER PERSON: $750